Small campsites in Gascony - the Midi Pyrenees region from Lot and Aveyron to the Pyrenees and the Spanish border.


L'ANNUAIRE BILINGUE
RCF
DES CAMPINGS RURAUX -
Accueil
sélection de campings ruraux en France - 2017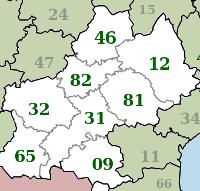 Area 7 : Midi Toulousain
Camping in Lot, Aveyron, the Tarn, the Garonne, and in the Pyrenees and their foothills
Midi-Pyrenees region - including historic Gascony

Tarn and Gascony camping
- 32, 81, 82
Lot and Aveyron campsites
- 12, 46
NEW

Camping near Gourdon, Lot + Small 3* family campsite with very spacious pitches. Many touristic features in a range of 25 km from the campsite. On site: Heated pools, cosy bar and restaurant, bread service and a small shop.

Petit camping trois étoiles familial avec grands emplacements. Beaucoup de sites touristiques dans un rayon de 25n km du camping. Sur place: piscine chauffée, petit bar et restaurant, service pain et petit magasin.

Grands Causses regional park

●

With just 12 pitches, the Saint Izaire natural camping area is on the banks of the river Dourdou, a tributary of the Tarn, in the Grands Causses regional park.

Avec ses 12 emplacements, l'aire Naturelle de Camping de Saint Izaire est situé dans le parc naturel régional des Grands Causses à l'ombre des peupliers et en bordure du Dourdou, affluent du Tarn

Camping near Cahors (46 Lot) + Spacious small-scale campsite in the Lot, close to the Dordogne, a wonderful area with lots to see and do. Games room, sports fields, jeux de boules and activities for children. Restaurant. Pool . Safari tent with private bathroom available for hire.

Petit camping aux emplacements spacieux dans le Lot, aux confins du Périgord. Salle de jeux, terrain de jeux, pétanque, activités pour enfants. Restaurant. Piscine . Location de tente safari avec s-d-b privée.


Kleine, ruime, kindvriendelijke camping in de Lot gelegen aan een riviertje. In super omgeving met veel bezienswaardigheden en leuke middeleeuwse stadjes. Bezoek onze website, welkom!
Pyrenees & Garonne camping
- 65, 31, 09
NEW

Pyrenees foothills

(31 Haute Garonne)

●

Small friendly and environment friendly campsite in an attractive natural environment close to the Pyrenees. Restaurant, wine bar, pool. Petit camping dans un environnement préservé face à la chaîne des Pyrénées. Respect des hommes et de la nature, partage, convivialité. Beaux hébergements, restaurant bar à vin, piscine
Near Foix southwest Midi-Pyrenees

(09 Ariège)

●

Lovely rural campsite with only 50 spacious pitches, part of an estate of 200 hectares. On the borders of Ariège and Aude: pool, sandy lagoon, views to the Pyrenees. Le camping de la Besse, c'est 50 emplacements sur un domaine de 200 hectares : piscine, lagon avec plage de sable, vues sur les Pyrénées