Small friendly campsites in the northeastern part of France - from the English Channel to the Rhine.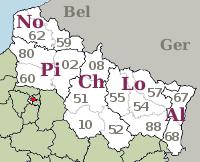 Area 3 : North eastern France
Nord–Pas-de-Calais, Picardie, Champagne, Lorraine, Alsace
Secteur 3
- Régions du nord-est
Champagne region camping (Ch)

Camping Montmorency, ~ Champagne region (Haute Marne 52). Three-star campsite with 62 pitches, on the outskirts of the small spa town of Bourbonne les Bains, close to the Vosges

Nord - Pas de Calais and Picardy regions camping (No, Pi)
Camping in the Somme ~ (Albert - 80 Somme - Picardy) On the edge of the small town of Albert, a centre for visiting the sites of the First World War, notably of the Somme battlefields Quiet municipal campsite with 75 pitches.

Camping municipal de 75 emplacements en périphérie de la ville d'Albert, un des hauts lieux des commémorations de la première guerre mondiale

Camping la Petite Forêt ~ (Aire sur le Lys - 62 Pas de Calais) 55 spacious pitches in this small campsite by the canal, just outside Aire sur le Lys, just over half an hour south of Calais. Ten minutes from A 26 motorway.

55 emplacements spacieux à ce petit camping près du canal, à 5 minutes d'Aire sur le Lys, à 10 minutes de l'autoroute A 26 à environ 40 minutes de Calais.
Alsace & Lorraine camping (Al, Lo)
Vosges - in a clearing in the forest

●

( near Contrexéville - 88 Vosges- Lorraine ) If you want to lose yourselves in the peace of the forest, this is the spot. 6 pitches on a large clearing in the Vosges forest, to share with Cécile, Christophe and their farm animals.

Près de Contrexéville, si vous cherchez à vous perdre, c'est ici ! Partagez avec Cécile et Christophe et quelques animaux une grande clairière au milieu de la foret vosgienne.



3 star campsite in the Vosges (Plombières - 88 Vosges - Lorraine) Small 66-pitch campsite with swimming pool neart Plombières, on the edge of the Vosges mountains. Shady pitches on the flat or on terrassed slope. Petit camping trois étoiles de 66 emplacements à Plombières les Bains, dans les contreforts des Vosges. Emplacements ombragés sur terrain plat ou en terrasse



Campsites listed in this directory are entirely independent of the directory.
To be listed in the directory, campsites must meet the Rural-Camping.com selection criteria for size, environment and location, and must provide full information on a well illustrated website. Information presented here or on external links is the individual responsibility of the owner of the campsite, and Rural-Camping.com can under no circumstances be held liable for errors, omissions or misleading information.