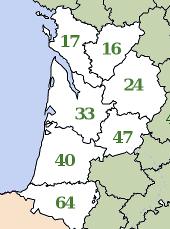 Area 4 : Southwest France
Campsites in Charentes, Dordogne and southern Aquitaine - Gascony
Coastal & inland areas of southwest France
Click on a link to visit the website : departments listed in random order

Camping in Charentes
NEW

Riverside camping near Angoulême

( 16 - Charente)

Welcome to Camp Laurent – a rural campsite with just 10 pitches over an area of 8 acres, and nestled in the beautiful Charente countryside by a river that is part of the River Charente. Not suitable for children.
Camping near La Rochelle

(17 Charente Maritime)

+ Small campsite with just 25 pitches, plus 2 gypsy caravans for hire, in an orchard near La Rochelle. Enjoy the fruit, relax in our natural environment, and we'll help you have a great holiday.
Camping near Bordeaux

(17 Charente Maritime)

We have limited the classification to one star, but if you want more you just have to look up to the sky at night. At La Motte the emphasis is on relaxation, not on entertainment.
Camping in the Dordogne
Camping in Gironde and the far southwest
Sorry - no small campings southwest of Bordeaux are currently listed with rural camping France. Please try again later..