En français: ►
Camping Massif Central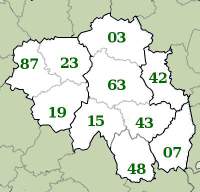 Area 5 : Central southern France
Small campsites in the Massif Central - Auvergne - Rhône & Limousin
Upland areas of central southern France between Haute Vienne and the Rhone and Ardèche
Farm camping, natural areas and other small-scale campsites
Covid-19 info.
France is back open for business again
but the virus
could still come back. Still overall, the smaller the campsites, the less people there will be, so the lower the risks will be too. Besides, smaller campsites, particularly those that are family-run, have a huge interest in making sure they remain virus-free, as their very survival could depend on it. With mostly between 6 and 60 pitches, many of the campsites listed on Rural Camping France are in rural locations where the virus never showed up even at the height of the pandemic.

🍀
Book directly with the campsite
Campsites in Limousin
Aire naturelle - Dordogne 🍀(19 Corrèze) Aire Naturelle La Champagne-Dordogne... the name gives you the basic idea of our place; quiet, green, and right on the banks of the river Dordogne in the middle of untouched nature..
Small Corrèze campsite (19 Corrèze) Peaceful and relaxing campsite with informal camping, caravan or motorhome pitches including EHU. Fully equipped yurt and Lotus Belle also for hire. Perfect for a holiday or stop off.
Campsites in Auvergne-Rhône-Alpes (west of the Rhone)
Camping La Rochelambert, 🍀

(43 Haute Loire)

●

+ Camping in

Auvergne:

near Le Puy en Velay. Located below the castle of Rochelambert in a natural setting, this rural campsite offers 80 shady pitches, and twenty holiday chalets. Swimming pool.
Camping La Source, 🍀

(07 Ardèche)

●

Calm three-star family campsite in the traditional camping spirit. 2 pools, paddling pool, play area, mini-farm. Bread, bar and restaurants and family entertainment. 62 pitches + rental chalets.


Campsites listed on Rural-Camping.com are entirely independent of the directory.
To be listed in the directory, campsites must meet the Rural-Camping.com selection criteria for size, environment and location, and must provide full information on a well illustrated website. Information presented here or on external links is the individual responsibility of the owner of the campsite, and Rural-Camping.com can under no circumstances be held liable for errors, omissions or misleading information.


Adding new rural campsites to this guide:
Recommend
a good and calm independent campsite in France, Spain, Italy or the UK.
If you run or have
stayed in
a small independent campsite that you think ought to be in this directory,
contact
Rural-camping.com with details.