En français: ►
Petits campings Val de Loire - Bourgogne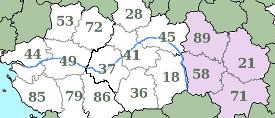 Rural Camping France
Campsites in the Loire Valley and Burgundy
Covid-19 info
French campsites are looking forward to a good summer in 2022, specially small campsites, like those in this guide, that do not accommodate large crowds of closely packed visitors. Campsites, like other accommodation providers in France, are bound by strict social distancing rules to prevent a resurgence, but there is no such thing as zero-risk. Yet overall, the smaller the campsites, the less people there will be, so the lower the risks will be too. Besides, smaller campsites, particularly those that are family-run, have a huge interest in making sure they remain virus-free, as their very survival could depend on it. With less than, and in most cases considerably less than, 100 pitches, many of the campsites listed on Rural Camping France are in rural locations where the virus never showed up even at the height of the pandemic.

Western Loire area - Vendée, Poitou, Pays de la Loire
Central Loire valley and Burgundy
Small campsite in the Indre Small child friendly campsite with swimming-pool, in the center of France. You can rent a luxury safari tent or gite. 9 spaces and 15 fixed units for hire. Meals available

New 2021

Burgundy - Morvan (Saône et Loire - 71) Small peaceful farm camping at the edge of the Morvan Regional Park area of southern Burgundy. 3 pitches, 3 rentals. Stabling available for horses.
Loire - near Chambord (Loir-et-Cher - 41) Offbeat farm campsite in Loire château country near Chambord. Gypsy caravans, cabins and trapper tents for the full natural experience. On site: bike hire and donkey trekking.
Spacious campsite in Touraine (Indre et Loire - 37) 10 minutes from Loches. Extending over 5 hectares of former farmland in the south region of the Loire Valley, Camping de la Touche offers visitors a truly memorable camping experience.
Loire valley area south of Tours (Indre et Loire - 37) 4-star 30-pitch campsite in the grounds of a small chateau in the Loire Valley; swimming pool, snack bar, mini-golf. Close to chateaux of Azay le Rideau, Chinon, Villandry, etc.

Camping Le Moulin

- Campsite with English-speaking owners, located near the chateau de Chenonceaux, on the banks of the river Cher. No chalets or static mobile-homes, this campsite is for those who are looking for "campsites as they used to be". Wi-fi available at the bar and on the terrace.


►
Go further... Find
Glamping sites in Loire valley
on our partner Good-glamping.com


Campsites listed on Rural-Camping.com are entirely independent of the directory.
To be listed in the directory, campsites must meet the Rural-Camping.com selection criteria for size, environment and location, and must provide full information on a well illustrated website. Information presented here or on external links is the individual responsibility of the owner of the campsite, and Rural-Camping.com can under no circumstances be held liable for errors, omissions or misleading information.


Adding new rural campsites to this guide:
Recommend
a good and calm independent campsite in France, Spain, Italy or the UK.
If you run or have
stayed in
a small independent campsite that you think ought to be in this directory,
contact
Rural-camping.com with details.