En français: ►
Petits campings dans le Midi
Covid-19 info
French campsites are looking forward to a good summer in 2024, specially small campsites, like those in this guide, that do not accommodate large crowds of closely packed visitors. And overall, the smaller the campsites, the less people there will be, so the lower the risks will be too. Besides, smaller campsites, particularly those that are family-run, have a huge interest in making sure they do not present any health riskt.
Area 8 : Mediterranean France
Small campsites in the South of France- Languedoc - Provence & the Riviera
Traditional rural campsites for tents and caravans - including farm camping, natural areas and other small-scale campsites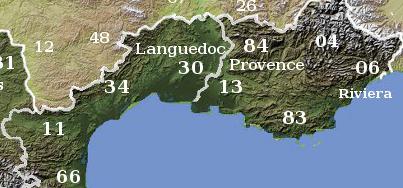 Provence hill country (04 Alpes de Haute Provence) At Simiane la Rotonde off the beaten track in the heart ofProvence, Valsaintes ** is an oasis of natural calm. Lots of hiking trails and sites nearby.
Provence - "Les Oliviers"

(13)

- For over 50 years the Meynier family have welcomed visitors to their campsite near Eygalières in Provence, in the heart of the Alpilles hills within easy striking distance of Avignon, Arles, and the Camargue.. The campsite offers 30 pitches, set in the shade of almond trees and olive trees .
Provence Alps camping (04 Alpes de Haute Provence) "Between Provence and the mountains" near Castellane, at an altitude of over 1000 metres, a small campsite with 27 pitches and RV spaces among the pines. heated pool, restaurant,
Provence Alps camping - Sorry, no campsites for the time being, but come back later !
Camping in Corsica - the Island of Beauty
Camping in Corsica (20 Northern Corsica) In the mountains of northern Corsica, half an hour from the coast, small traditional farm campsite with 25 pîtches in the Corsica Regional Park area.


Campsites listed on Rural-Camping.com are entirely independent of the directory.
To be listed in the directory, campsites must meet the Rural-Camping.com selection criteria for size, environment and location, and must provide full information on a well illustrated website. Information presented here or on external links is the individual responsibility of the owner of the campsite, and Rural-Camping.com can under no circumstances be held liable for errors, omissions or misleading information.


Adding new rural campsites to this guide:
Recommend
a good and calm independent campsite in France, Spain, Italy or the UK.
If you run or have
stayed in
a small independent campsite that you think ought to be in this directory,
contact
Rural-camping.com with details.