En français: ►
Camping Alpes et Jura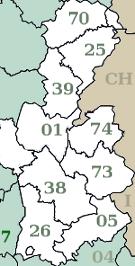 Area 6 : Eastern France
Rural campsites in the French Alps, Rhone Valley and Franche Comté
Campings dans les massifs du Jura et des Alpes - régions Franche Comté et Rhône Alpes
Des campings traditionnels à taille humaine,
pour des vacances tranquilles loin des
grandes foules
Covid-19 info
French campsites are looking forward to a good summer in 2024, specially small campsites, like those in this guide, that do not accommodate large crowds of closely packed visitors. And overall, the smaller the campsites, the less people there will be, so the lower the risks will be too. Besides, smaller campsites, particularly those that are family-run, have a huge interest in making sure they do not present any health risk.

🍀
Book directly with the campsite
Rhone-Alpes area
Small campsite in Vesc valley (26- Drôme) - 🍀 Between Provence and the Alps, a small shaded family oriented campground with pool, overlooking the Vesc Valley in the hills of the Drome. 19 pitches, 10 cabins.
Farm camping 25 pitches (26- Drôme) - 🍀 "Aire naturelle" campsite with 25 spaces close to the farm. Enjoy a natural environment with peace and quiet in the shade of oak trees and with mountain views.
Farm camping in Drôme Provençal (26- Drôme) - 🍀 Small farm campsite, just 6 pitches, among fields of lavender and aromatic plants. Located between the Alps and Provence on an organic farm. Solar hot water.
Camping Goute la Vie - Bugey hills (01 Ain) +

Small rural campsite and B&B in the Alpine foothills close to Aix les Bains and the Lac du Bourget. Very peaceful village location in a magnificent natural environment ideal for hiking, fishing, mountain biking or just relaxing.
Camping les Framboisiers - Savoie (73 Savoie) -

Delightful small campsite with 24 spaces in the heart of the Bauges natural park. Lovely views over mountains and valley; hiking trails from the campsite. Lake swimming nearby.
Alps - near Ecrins national park (05 Hautes Alpes) - Quiet shady 40 pitch campsite with unique model railway layout. Heated swimming pool, a few chalets, café, no noisy activities
Jura and Franche Comté

►
Go further... Find
Glamping sites in the Alps & Jura
on our partner Good-glamping.com

Campsites listed on Rural-Camping.com are entirely independent of the directory.
To be listed in the directory, campsites must meet the Rural-Camping.com selection criteria for size, environment and location, and must provide full information on a well illustrated website. Information presented here or on external links is the individual responsibility of the owner of the campsite, and Rural-Camping.com can under no circumstances be held liable for errors, omissions or misleading information.


Adding new rural campsites to this guide:
Recommend
a good and calm independent campsite in France, Spain, Italy or the UK.
If you run or have
stayed in
a small independent campsite that you think ought to be in this directory,
contact
Rural-camping.com with details.