En français: ►
Camping Alpes et Jura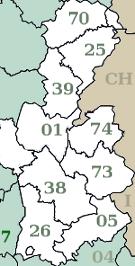 Area 6 : Eastern France
Rural campsites in the French Alps, Rhone Valley and Franche Comté
Campings dans les massifs du Jura et des Alpes - régions Franche Comté et Rhône Alpes
Des campings traditionnels à taille humaine,
pour des vacances tranquilles loin des
grandes foules
Covid-19 info
French campsites are looking forward to a good summer in 2021, specially small campsites, like those in this guide, that do not accommodate large crowds of closely packed visitors. Campsites, like other accommodation providers in France, are bound by strict social distancing rules to prevent a resurgence, but there is no such thing as zero-risk. Yet overall, the smaller the campsites, the less people there will be, so the lower the risks will be too. Besides, smaller campsites, particularly those that are family-run, have a huge interest in making sure they remain virus-free, as their very survival could depend on it. With less than, and in most cases considerably less than, 100 pitches, many of the campsites listed on Rural Camping France are in rural locations where the virus never showed up even at the height of the pandemic.

🍀
Book directly with the campsite
Rhone-Alpes area
Jura and Franche Comté

►
Go further... Find
Glamping sites in the Alps & Jura
on our partner Good-glamping.com

Campsites listed on Rural-Camping.com are entirely independent of the directory.
To be listed in the directory, campsites must meet the Rural-Camping.com selection criteria for size, environment and location, and must provide full information on a well illustrated website. Information presented here or on external links is the individual responsibility of the owner of the campsite, and Rural-Camping.com can under no circumstances be held liable for errors, omissions or misleading information.


Adding new rural campsites to this guide:
Recommend
a good and calm independent campsite in France, Spain, Italy or the UK.
If you run or have
stayed in
a small independent campsite that you think ought to be in this directory,
contact
Rural-camping.com with details.