►
Le camping sauvage en France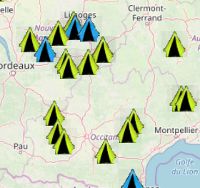 Selected and attractive small or medium-size campsites in the heart of rural France.
known in French as "le camping sauvage", involves setting up your tent, or parking your caravan or motorhome, for a night or two, outside of a proper campsite. It may be on public land or on private land, beside a road or well off the road. On some aspects of this, French law is clear, on others it is vague. So before deciding to set up for the night in an unscheduled location, it's best to have at least some idea about the rules.
The principal rules
Wild camping is permitted anywhere in France subject to the permission of the landowner or tenant of the land, and subject to certain general limitations. The basic rules are set out in Article R111-33 of French town and country planning law.
The main restrictions stipulate that wild camping is not permitted on the coast, in protected natural sites, and on the perimeter of classified historic monuments.
Local authorities and the authorities in charge of designated natural sites, such as national or regional parks, may establish specific rules pertaining to their own area.
What does this mean?
Essentially it means that you can stop for the night at the roadside or on public land subject to the restrictions indicated above, and on private land if you have the owner's permission.
Since it is not practical, and in some cases pretty well impossible, to know local restrictions on wild camping unless these are specifically indicated by road signs or other information boards, it is best to observe some basic principles and guidelines, and know some of the things that definitely are permitted, and things that definitely are not permitted. For this it is useful to distinguish two types of wild camping, on the one hand bivouacking, with a light tent, as practised by hikers and cyclists and some motorists, on the other hand wild camping for motorhomes or camper vans.
Bivouacking
This is most popular in wild country and is practised in particular by hikers and cyclists. For specific restrictions per National Park or Regional Park, see
Le camping sauvage
website (in French).
In most areas (including many parks) visitors can pitch their bivouac or light tent in any suitable location on public land subject to the general rules concerning coastal areas, listed natural sites, historic monuments, and explicit local restrictions (notably a sign indicating no camping).
Bivouacking is generally a one-night stop, and is implicitly authorised between the hours of 7 p.m and 9 a.m, though local bylaws may specify slightly different times. Campers are required to leave nothing behind when they leave. Local restrictions may well apply in summer with regard to fires. It is safe to say that making an open fire when wild camping in dry areas in France in summer is implicitly forbidden.
Wild camping on private land with the owner's permission is not subject to time limitations.
Motorhomes
The general rules regarding restricted or forbidden locations (notably on the coast and in protected natural areas) apply to motorhomes or camper vans in the same way as they do to tents.
The French highway code stipulates that motorhomes may park beside roads and in designated parking places in the same way as other vehicles.
Since 2004, French local authorities have been encouraged to provide specifically designated parking areas for motorhomes. Many French towns and large villages now have motorhome areas, and these are generally free except in some popular tourist locations. They frequently have time limitations, such as three nights maximum or even just one night allowed.
Outside of towns, it is therefore generally legal to park up a motorhome at the side of a quiet road. Many minor French roads (D roads) have been upgraded in the past thirty years, and in hilly or mountain areas there are plenty of places where bends have been straightened out, leaving unofficial lay-bys that offer a quiet place to stop for the night.
Alternatives to wild camping
Wild camping has its advantages, and its disadvantages. On the plus side are the freedom offered, the fact that it's free, and the peace and quiet of being on your own. On the negative side are the lack of facilities, the isolation, and the fact that you generally need to move on next day.
Two alternatives are
farm camping
(camping à la ferme) and
natural area
campsites.
Farm camping
consists of micro campsites run by farmers on their own land. These can have a maximum of six pitches. They must provide toilets and a warm shower plus rubbish and recycling bins. Many provide more, in the form of a farm shop and/or a common room; some even have swimming pools. Rates are not expensive, and of course there are generally no time restrictions apart from the end of the season.
Aires Naturelles
, or natural area campsites, are larger and can have up to 25 large spaces. They cannot have any fixed rental properties, but must provide a washroom and other essential facilities.
Many of the
sites listed
in the Rural Camping France directory are farm campsites or natural area campsites.